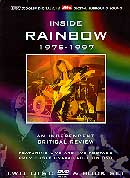 DVD : PAL Region 2

Disc 1

Mistreated
Man On The Silver Mountain
Still I'm Sad
Long Live Rock'n'Roll
L.A. Connection
Do You Close Your Eyes
Etc.

Disc 2

Eyes Of The World
All Night Long
Catch The Rainbow
I Surrender
Miss Mistreated
Street Of Dreams
Too Late Fot Tears
Ariel
Etc.
RainbowのDVD、オフィシャル・リリースとしては日本では久々の、また、海外では初めてのアイテムとなったのが、このシリーズです。2枚組デジパックで、Rainbowの全期間に焦点を当てて、アルバム毎の歩みを追った企画モノとなっています。"1975-1997"の1枚目は"1975-1979"とまったく同じ内容になっています。その後、"1975-1997"の二枚目と同内容のDVDが、"1979-1997"としてリリースされました。このシリーズに興味を持たれた方は、"1975-1997"のNTSC盤を入手するのが、一番効率が良いと思います。
コメンタリー陣も"Inside Deep Purple"とほぼ共通のメンツとなっており、ドゥギー・ホワイトが唯一元バンド・メンバーとして登場します。セッション時代のリッチーについて、 The Outlawsのライヴを観たと言う人の証言も出てきます。全体的としてはマニアには若干食い足りなさを感じる作品ですが、きちんとした日本語版がリリース、もしくは放送されるのであれば、Rainbowを大雑把に知る事ができる内容にはなっています。
使用されている映像ですが、ロニー時代の定番映像である1977年ミュンヘンのライヴ映像と、1978年にアメリカで撮影されたプロモーション・ビデオより"Long Live Rock'n'Roll"と"L.A. Connection"、グラハム時代ではモンスターズ・オブ・ロックのフィルム映像、ジョーの時代では1984年のジャパン・ツアー、そして、再編成Rainbowでは"Ariel"のプロモや1995年のドイツ公演などが、初DVD化映像として観る事が出来ます。しかし、どの映像もブツ切りの上、"Gates Of Babylon"は、曲はかかるものの、プロモが使用されないなど、やはり映像の中途半端な使用はファンにとっては欲求不満に陥ります。